#27
Wembley - a legek stadionja
Az ˙j Wembley Stadion megÚpŘlÚse ˇta London ˙j ikonikus jelkÚpe. Az el§djÚhez kÚpest dupla befogadˇkÚpessÚgű lÚtesÝtmÚny Eurˇpa legnagyobb elh˙zhatˇ tet§s arÚnßja Ús nem mellesleg a vilßg legdrßgßbb, k÷zel 800 milliˇ fontÚrt ÚpŘlt sportpßlyßja. Az angol nemzeti vßlogatott tulajdonßt kÚpezi, ezÚrt gyakran nevezik "A Futball Otthonßnak". Az ßtÚpÝtÚs kezdetÚig a 85 Úves nemzeti intÚzmÚnyben rendeztÚk 1923 ˇta az ÷sszes kupad÷nt§t, Ús a London ßltal elnyert 2012-es olimpiai jßtÚkok labdar˙gˇ tornßjßnak f§ helyszÝne is a Wembley lesz.
A teljesen ˙j felfogßs szerint ÚpŘlt lÚtesÝtmÚny izgalmas, ˙j ÚlmÚnyt ny˙jt a sportÚletben. Mr. Michael Cunnah, a stadion ÚpÝtÚsÚrt felel§s vezet§ nyilatkozta: "A vilßg legnagyszerűbb stadionjßt ÚpÝtjŘk, olyan komfort szintű stadiont amelyet a szurkolˇk eddig mÚg sehol a vilßgon nem lßthattak."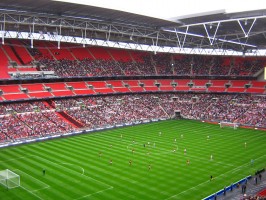 Az ÚpŘlet terveit a vilßghÝrű brit szakember, a hi-tech ÚpÝtÚszet ˙tt÷r§jÚnek szßmÝtˇ Norman Forster jegyzi, akinek nevÚhez olyan nagyszabßs˙ projektek k÷t§dnek, mint a New York-i Hearst Tower, a londoni- Gherkin Ús a Millenium Bridge. Foster cÚlja az volt, hogy egy ˙j jelkÚpet adjon a vßrosnak. A rÚgi arÚna mßr ikonnß hÝresŘlt ikertornyait olyan ÚpÝtÚszeti megoldßssal kÝvßntßk "pˇtolni", amely London szßmos pontjßrˇl jˇl lßthatˇ. Kßprßzatosra sikerŘlt! Az ˙j Wembley 133 mÚter magas vilßgÝtˇ boltÝve London-szerte kivßlˇan lßthatˇ, kŘl÷n÷sen este, mikor fÚnyßrban ˙szik az ÚpŘlet.
A hatalmas Ývnek persze nem csak dÝszÝt§ funkciˇja van: a brav˙ros statikai Ús mÚrn÷ki megoldßsnak k÷sz÷nhet§en ez az ˇrißsi fÚmszerkezet mozgatja a stadion elh˙zhatˇ tetejÚt, ˙gy, hogy fŘgg§leges ßllßson t˙lmozdulva motorok fÚkezik s˙lyos fÚmelemet. A tet§ rossz id§ esetÚn tizen÷t perc alatt csukˇdik be.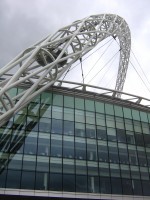 Az ÚpÝtkezÚs 2002. februßr 7-Ún, az eredeti szerkezetÚt lerombolßsßval kezd§d÷tt. Akkor mÚg 3 Úvesre terveztÚk a munkßlatokat, ßm id§ k÷zben szßmos, el§re nem vßrt esemÚny lassÝtotta a konstrukciˇt, Ýgy vÚgŘl 2007. tavaszßn adtßk ßt. A mßsfÚl Úves cs˙szßs okai k÷z÷tt szerepel, hogy a Multiplex, az ßtÚpÝtÚst vÚgz§ ausztrßl f§vßllalkozˇ, folyamatosan tolta ki a munkßk befejezÚsÚnek id§pontjßt, nem sokkal kÚs§bb pedig egy ÷tven tonnßs acÚlgerenda beszakadßsa miatt tartottak kÚnyszerpihen§t. Ezt k÷vet§en az egyik alvßllalkozˇ t÷bb mint szßz alkalmazottja lÚpett sztrßjkba, amiÚrt nem kaptak fizetÚst. Rßadßsul a tervezett 400 milliˇ font helyett 757 milliˇ fontbˇl (k÷zel 300 millißrd forint) ÚpŘlt meg a stadion. A szakmai k÷r÷kben is Řnnepelt stadion sikere dacßra 2007 ˇta pereskednek a projekt rÚsztvev§i.
T˙l a szemet gy÷ny÷rk÷dtet§ ÚpÝtÚszeti megoldßsokon, az ˙j stadion alapvet§en a praktikum jegyÚben ÚpŘlt. ÍsszterŘlete meghaladja 44 ezer nÚgyzetmÚtert. Az eredeti, 1923-as Wembley-hez kÚpest megkÚtszerez§d÷tt az Řl§helyek szßma: az ˙j stadion 90 ezer kiszÚlesÝtett szÚket foglal magßba. ═gy ez a vilßg legnagyobb olyan szabadtÚri sportlÚtesÝtmÚnye, amelynek minden Řl§helye tet§vel vÚdett. Am˙gy pedig a vilßg mßsodik legnagyobb stadionja. Az abszol˙t els§ a barcelonai Camp Nou 98.000-es befogadˇkÚpessÚgÚvel.
A Wembley szerkezete mintegy 23.000 tonna acÚl, melyb§l a tet§ egymaga k÷rŘlbelŘl 7000 tonna. A cs˙szˇ szerkezetnÚl 3500 ember dolgozik. Hogy minden pontrˇl t÷kÚletesen lehessen k÷vetni a pßlya esemÚnyeit, kÚt gigakivetÝt§t szereltek fel, amely 600 tv kÚszŘlÚknek felel meg. A lÚtesÝtmÚny 5 szintjÚn 2618 WC Ús kÚtszßznßl is t÷bb biztonsßgi kamera pßsztßz.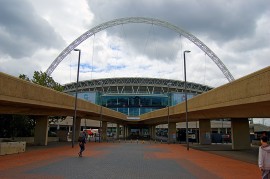 Aszfaltozott utak vezetnek a lelßtok alatt, amelyeken kamionok is nyugodtan k÷zlekedhetnek. Hely van b§ven, hiszen a k÷rfolyosˇk is igen szelesek. Mintegy 140 konyha műk÷dik stadion szerte, viszont mindegyik egysÚges Wembleys dobozokban, poharakban adja a fogyasztanivalˇt. A mozgßssÚrŘltek nemcsak a kijel÷lt helyeken tudnak k÷zlekedni, hanem minden irßnybˇl vannak boxaik, k÷zlekedÚsŘket szßmos lift is segÝti. A VIP szektorban minden box kÚt rÚszb§l ßll: egy teraszbˇl Ús egy Řvegfallal elvßlasztott, kÚnyelmes fotelekkel, plazmatÚvÚkkel ellßtott pßholybˇl.
A pßlya szent Ús sÚrthetelen. F÷ldi halandˇ nemhogy nem lÚphet rß, de meg sem Úrintheti. Mellesleg 250 kŘl÷nb÷z§ fűfajtßbˇl ßllˇ fűkeverÚk n§, amely alatt egy szÝvˇcs§rendszert rejtettek el: a szerkezet bßrmilyen mennyisÚgű es§vizet kÚpes eltßvolÝtani a pßlyßrˇl.

Az ˙j Wembley stadion a Chelsea - Manchester United FA kupad÷nt§vel nyitott, 2007. mßjus 19-Ún. A V÷r÷s Nyilak, azaz a brit kirßlyi lÚgier§ kaszkad§reinek repŘl§s mutatvßnyßval kezd§d÷tt a hivatalos nyitˇ ceremˇnia, melyenek dÝszvendÚge Vilmos herceg volt. MeghÝvˇt kaptak az utˇbbi 50 kupad÷nt§ legjobb jßtÚkosai is. A meccs el§tt gyerekek vonulnak fel annak a 72 csapatnak a szÝneiben, amelyek 1923 Ús 2000 k÷z÷tt a Wembley arÚnßban nyertÚk meg a serleget.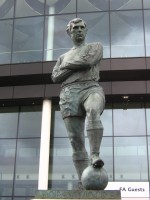 Nemcsak a sport fellegvßra az Úszak-londoni stadion, de gazdag zenei m˙ltja is van. Az arÚnßban 1972 augusztusßban tartottßk az els§ koncertet, a London Rock and Roll Show-t. A fellÚp§k k÷z÷tt talßljuk Bill Haley and the Comets, Jerry Lee Lewis, Little Richard, Bo Didley Ús Chuck Berry nevÚt is. Az els§ ÷nßllˇ koncert ÷t Úvvel kÚs§bb a Crosby, Stills and Nash amerikai folk-rock formßciˇ nevÚhez fűz§dik. A Wembley nevÚt az 1985. j˙lius 13-ßn rendezett Live Aid Ýrta be a rockzene t÷rtÚnetÚbe. Hßrom Úvvel kÚs§bb a stadion adott otthont a Nelson Mandela 70. szŘletÚsnapjßra rendezett koncertnek, amit 72 orszßgban k÷zvetÝtettek. Live Earth nevezetű koncertsorozat 2007. j˙lius 7-Ún indult a Wembley stadionban, abbˇl a cÚlbˇl, hogy felhÝvjßk az emberek figyelmÚt a globßlis felmelegedÚsi vßlsßgra.
Tetszett a cikk? KŘldd el az ismer§s§dnek!
Hozzßszˇlok!