#6
Szülés - Az elsõ legjobb dolog
Minden nõ életében eljön egyszer az a pillanat, amikor elgondolkozik azon, hogy szeretne-e gyermeket szülni vagy sem. A mai "szingli"-korban a válasz egyre többször nem, de én mégis arra bíztatnék mindenkit, hogy az életében legalább egyszer tegye meg ezt a lépést, hiszen mindazok ellenére, hogy mennyi fájdalommal és szenvedéssel jár, mégis a legmegindítóbb és legcsodálatosabb élmény nemcsak a nõk, de már a férfiak számára is.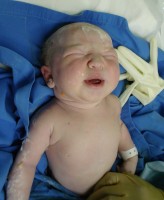 Persze ezzel nem azt akarom mondani, hogy a Schwarzenegger-féle Junior címû film már az életben is megvalósítható dolog, csupán arról van szó, hogy a kor változásával az orvosok is rájöttek arra, hogy egy apának legalább annyi joga van részt venni a szülésen, mint az anyának. Régen az otthonszülés nem volt közéleti kérdés, akkor csak ez az egyetlen formája és helyszíne létezett a szülésnek. Nagyanyáink korában már szülõotthonokba kellett bevonulni a terhesség utolsó trimeszterében, s ott kórházi körülmények között, orvosi segítséggel hozhatták világra a nõk gyermekeiket. Ez már hasonlított a mai kórházakra, de még egy sokkal kezdetlegesebb forma volt.
Manapság rengeteg dolog közül választhatunk, minden csak lehetõség - és persze pénz - kérdése. Ma már eldönthetjük, hogy egyedül akarunk-e szülni vagy az apával, a mamával, esetleg a legkedvesebb barátnõvel. (A mai törvények egyébként plusz két fõt engedélyeznek a szülõszobában az anyán kívül.) Kérheted dúla segítségét is a szüléshez. A dúla egyfajta segítõ, aki beszél hozzád, törölgeti a homlokod, citromot rak a szádra, hogy ne száradjon ki, masszírozza a derekadat. Tulajdonképpen a dúláskodás lelki támogatás az anyának, amely nem igényel szakképesítést, vagyis bárkibõl lehet dúla.
Megválaszthatjuk, hogy teljesen természetesen szeretnénk-e szülni, mindenféle érzéstelenítés nélkül, de választhatjuk a köztes állapotot, az epidurális érzéstelenítést is. (Az eljárás során a gerinc melletti lágy részbe szúrnak, amely hatásos, de még ez sem teszi fájdalommentessé a vajúdási idõszakot!) A vajúdási módszerek tekintetében rengeteg lehetõség áll a szülni készülõk rendelkezésére. Ilyen eszközök például a kádban, labdán, szülõsámlin, bordásfalnál való vajúdás. Ezen kívül kérhetsz természetes fájdalomcsillapítást, amely szintén megkönnyítheti a vajúdást és a szülést: ilyen például a málnalevél tea, a homeopátiás golyók, a félhomály, a zene, franciaágy stb.
Választhatod a császármetszést is. Igen, jól olvastad, manapság, ha elég sok pénzed van, könnyen meg lehet "gyõzni" az orvost arról, hogy neked ez lenne a legmegfelelõbb megoldás. Ebben az esetben érdemes átgondolni, hogy ébren szeretnél-e maradni vagy altatást kérsz. Ezen kívül természetesen megválaszthatod az orvost, a szülésznõt, illetve a kórházat is. A rengeteg kombináció közötti döntésnek csak a lakóhelyedhez közel esõ kórházi lehetõségek, és a pénztárcád szabhat határt. Ugyanakkor nincs két egyforma szülés! Ebben az orvosok és a többgyermekes anyák is egyetértenek.
Egy általános és átlagos szülés a következõképpen zajlik:
Elsõként egy óriási tévhitet szeretnék eloszlatni, melyet a filmeknek köszönhetünk. Olyan nincsen a való életben, hogy a kismama az egyik pillanatban még táncol, szórakozik, teljesen jól van, aztán egyik pillanatról a másikra jön egy õrületes fájás, és máris szaladni kell az orvoshoz, mert mindjárt a taxiban megszületik a baba. Az igazság az, hogy a szülésnek vannak elõjelei: rossz közérzet, fáradtság, erõs derékfájás, egyszóval a kismama érzi, hogy valami elkezdõdött. A fájások sem hirtelen jönnek, és nem egybõl 2 percesek, kivéve persze, ha a leendõ anyuka valamilyen baleset következtében kezd el vajúdni. Az elején az egyes fájások között akár 8-10 perc is eltelhet. Amikor elõször tapasztalod a fájásokat, természetesen be kell menni a kórházba, ahol rögtön megvizsgálnak. Majd jön az adminisztráció, vagyis egy rakat papírt ki kell tölteni, aláírni. Aztán megborotválnak, majd beöntést kaphatsz, ha szeretnéd. Ezután le kell zuhanyozni, és fel kell venni egy kórházi hálóinget. Mindez még a kezelõben történik.
Ezután átkísérnek a szülõszobába, ahol ismét megvizsgálnak, és egy úgynevezett NST készüléket kötnek a hasadra. Ez méri a fájások erõsségét és a baba szívhangját. Ha a fájások kezdetekor nem folyt el a magzatvíz, akkor az orvos burkot repeszt, hogy ez megtörténjen. Bekötnek egy infúziót, melyen fájdalomerõsítõt kapsz, ez felgyorsítja a szülést. Az orvos ezután félóránként megvizsgál, ellenõrzi, hogy minden rendben zajlik-e. Tévhit, hogy az orvos végig benn van veled. Az orvos nincs bent végig a szülõszobában, még akkor sem, ha nincs más dolga. Félóránként néz be rád, s csak akkor jön be hamarabb, ha valami komplikáció lép fel. Mielõtt jönnek a tolófájások az orvos gátat vág (ha szükséges), illetve a szülõágyat átalakítják szülõszékké. A NST-gép segítségével jelzi az orvos, hogy mikor nyomj. Ha minden jól megy, néhány tolófájás után megvan a baba. Ha nem sikerül kijönnie, a doki belekönyököl a hasadba, és szó szerint kinyomja belõled. Rosszabb esetben, ha a könyökölés sem használ, vákuumot használnak vagy fogót; vagy császármetszést alkalmaznak, ha még nem került be a bébi a szülõcsatornába.
Ha a baba világra jött, elvágják a köldökzsinórt. Ezt a lépést ma már az apukák is csinálhatják! Majd kitisztítják a baba orrát és torkát, és úgy véresen a mellkasodra rakják. Ott van néhány percig, majd elviszik megfürdetni, és beteszik az inkubátorba néhány órára.

Ezzel azonban még nincs vége! Egy kis idõ múlva ismét megindulnak a fájások, de ezek már közel sem olyan erõsek. Még meg kell szülni a méhlepényt. Ez valakinél egy nyomás, valakinél 15-20 perc is lehet. Az orvos megvizsgál, hogy sikerült-e megszülni az egészet, ugyanis az esetleges visszamaradó darabok veszélyeztetik az anyuka életét. Ezután kitisztítják a sebet; sok kismama szerint egyébként ez az a folyamat, ami a legfájdalmasabb. Ezután kaphatsz fájdalomcsillapítót, és ha szükséges összevarrják a sebet. Természetesen ez sem szentírás, valakinél egyáltalán nem kell varrni. (Õk a szerencsésebbek.) A többgyermekes anyukák tapasztalata alapján általában a második szülés már sokkal könnyebben megy.
Úgy gondolom, mindegy, hogy valaki az elsõt vagy a negyediket szüli, életet adni egy önálló kis lénynek, s ezzel anyává válni a legfantasztikusabb dolog, amit egy nõ az élete során megélhet. Hiszen anyának lenni az elsõ legjobb dolog a világon.

Tetszett a cikk? Küldd el az ismerõsõdnek!
Hozzászólok!